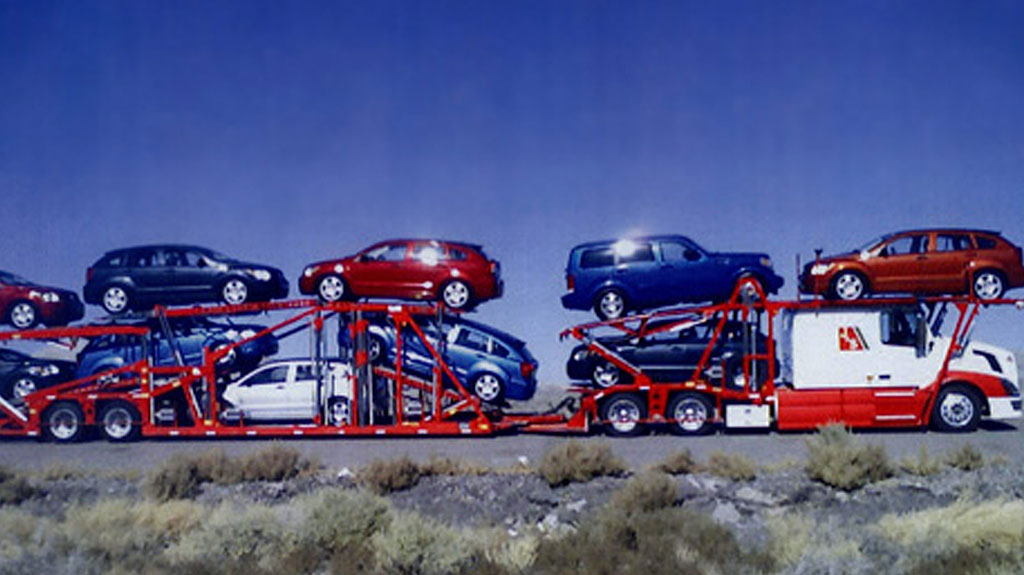 There are many reasons dealerships, auto auctions, and the general public use a
car delivery service
. Every car you see at a dealership, pre-owned and new, at some point in its journey to the dealership was carried on a transport carrier trailer. Auto shipping is an integral part of getting cars to the market. Whether coming from the manufacturer or from an auto auction, dealerships rely on
auto transport companies
to get their vehicles delivered safely and quickly. And with the rise in
internet sales
, the private citizens are starting to rely on
car carriers
to get their newly purchased vehicle to them as well.
Car hauling: Reasons to use an auto transporter
Auto transport trailers
Many trailers used by car carreirs are of the double decker variety and carry up to 12 vehicles, depending on whether they are cars, pickups, or SUVs. The auto transport trucks are designed to hold up to four vehicles themselves, with up to eight more loaded on to the trailer. The auto hauling trucks have decks that are hydraulically operated, allowing the operator to lower the decks to load the vehicle onto the truck and then raise it to provide space below for more vehicles when fully loaded.
Loading a trailer: a 3D puzzle
Watching an experienced auto transport driver fit the vehicles on the trailer is like watching someone solving a 3D puzzle. All the moving parts have to come together to make the transport as safe and efficient as possible. The driver has to take into account size of the vehicle, order of pickup and order of delivery. The first car on should not be the first car delivered or else the entire trailer has to be unloaded and reloaded. To make everything fit, some cars are backed on to the trailer or driven on nose first to maximize space or meet height or overhang restrictions. A general rule of thumb is that larger vehicles go on the top level, with average or smaller vehicles on the bottom.

Auto shipping safety concerns
When driving down the highway behind a double decker open air carrier many folks worry about a vehicle falling off the trailer onto the highway, but such fears are unfounded. All vehicles on the trailer are secured at four points to the trailer with either chains or straps. Chains are used on older model trailers, while the newer models use straps.
Almost all cars are made with tie-down holes in the chassis or frame for the purpose of transport or towing. Car transporters use chains with specialized hooks to fit into those holes. Once hooked onto the vehicle, they are then ratcheted tight to secure the vehicle. The strap system uses high-strength straps which are positioned over each tire and tightened to the trailer. This system will become a universal industry standard in the next 10 years.
Both methods are very secure. Transporters that have flipped in an accident have been known to not lose a single vehicle.
Whatever your reasons for using an auto hauling company, you should do research into whichever carrier you are looking to use. Third party review sites, customer testimonials, government sites and consumer protection agencies are all places to look to see what a carriers rating is and what other people have said about its performance. An informed customer more often than not results in a happy customer.